Pri­vate in­sur­ers solid­ly on course
Private Insurers are an important mainspring of the Swiss economy with good opportunities for growth, as long as their competitivity is not unduly limited through regulation. In 2017, the Swiss insurance industry again showed its strength in a demanding environment.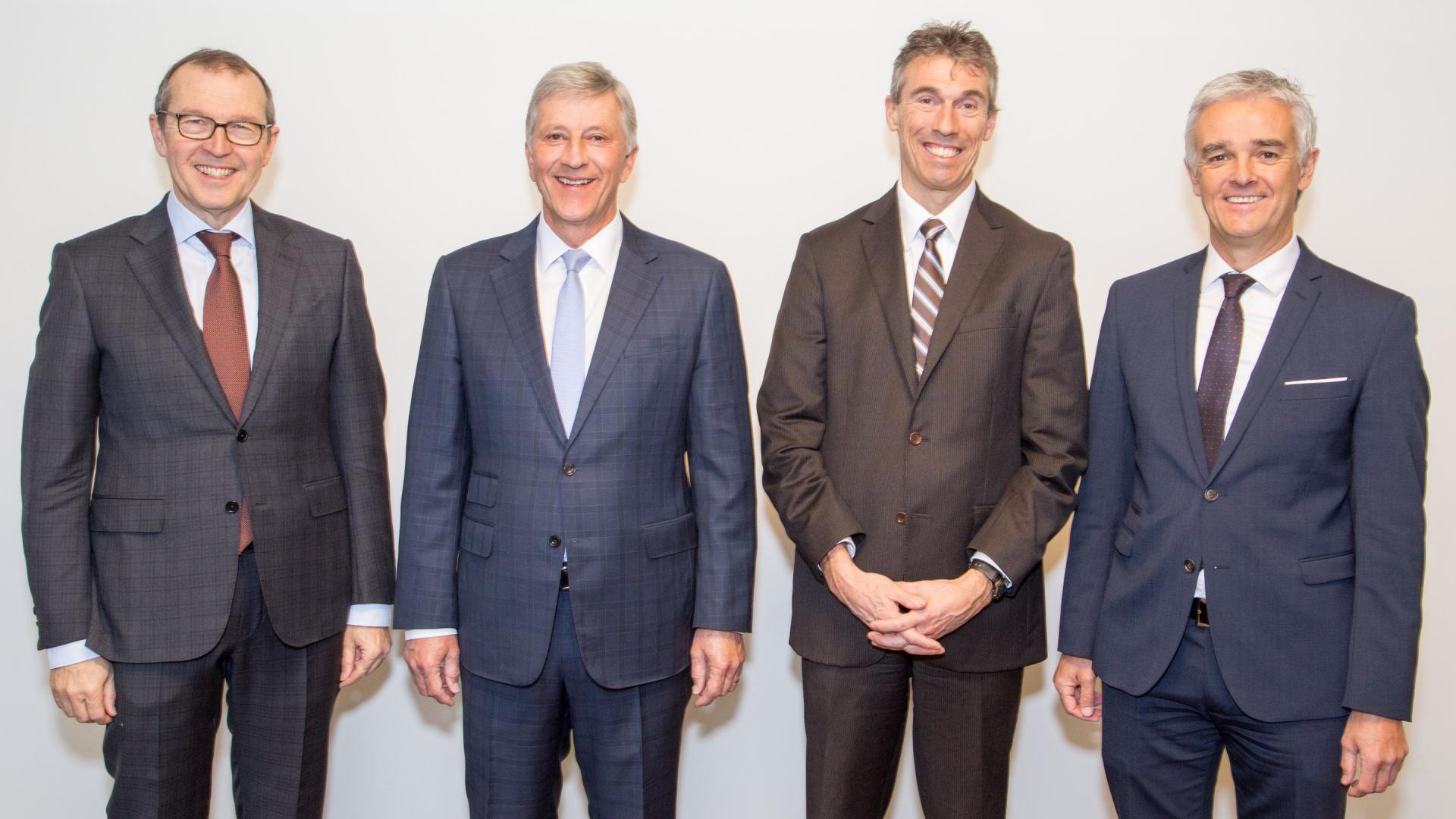 Markus Hongler, SIA vice-president; Rolf Dörig, SIA Chairman; Severin Moser, member of the SIA managing board; Thomas Helbling, SIA director
With a value creation of CHF 29.5 billion or 4.6 percent of the overall value creation of the Swiss economy in 2016, the insurance sector today accounts for some 50 percent of the Swiss financial sector. Its economic performance is comparable to that of the Swiss banks. Over the last 20 years, the insurance industry has been among the fastest-growing sectors of the Swiss economy. In 2017, the Swiss insurance industry again showed its strength in a demanding environment. "To make sure the Swiss insurance industry keeps its ranking in the Swiss economy, we campaign for supportive conditions. We continue to try and fight against unnecessary political and regulatory impediments", says SIA president Rolf Dörig.
Uptrend in non-life insurance
For 2017, the SIA foresees an increase of 1.7 percent year on year in premiums written. This means that the steady growth momentum in private non-life insurance continues:
+ 0.3 percent in Motor vehicle insurance: The increase is due to more vehicles being registered.
+ 0.5 percent in fire, natural disaster and property damage insurance: The positive trend in construction investment and the increase in purchasing power both contributed to the uptrend, as did population growth. The favourable claims experience in the last years made for lower premiums, but not for a trend reversal .
Claims for 2017 will probably be slightly higher than in previous years, mainly due to the Zofingen thunderstorm in July and hailstorms in Ticino and the region of Thun in August.
According to SIA projections, premiums written in life insurance have declined by 3.8 percent in 2017. Their decline is less pronounced than in the previous year (2016: 6.0 percent):
Group life insurance, i.e. occupational pension provision for SMEs and their employees, recorded a decline of 4.2 percent. Group life insurance products are still very much in demand. However, life insurers struggle to offer extensive coverage and meet the SME's demand. This is due to extensive capital requirements and a low-interest-rate environment, combined with the excessive BVG conversion rate.
-2.9 percent in individual life insurance: In the current low-interest rate environment, insurers are hard put to offer attractive interest guarantees. Namely in new business, the development has been curtailed by these circumstances.
Focus on InsurTech and cyber risks
The digital revolution is one of the key issues the Swiss insurance industry currently faces. The digital revolution is changing customer behaviour and therefore, the entire insurance industry. Insurers will have to deal with new risks and new opportunities. InsurTech firms concentrate on technological trends such as artificial intelligence that are set to shape the insurance industry. More and more private insurers cooperate with start-up enterprises, take stakes in such firms or develop their own InsurTech solutions. To do so, they need to be able to operate in an environment that accommodates technological changes. If regulatory capital requirements for investments in new technologies and start-up enterprises were less steep, insurers would be able to invest more extensively in this field.
With technological progress, new and increased dangers emerge, such as cyber risks. Insurers continuously chart and evaluate potential cyber risks in order to be able to offer their customers adequate protection. The enormous potential damages associated with cyber events have made insurers network together on an international level and with other industries and authorities. Currently, the networkers are focusing on joint claims statistics and a centralised office for the reporting of cyber events.
The SIA has geared its web presence toward digital communications, completely revising its website. The industry positions on political affairs have been clarified and brought into focus. Moreover, the SIA's new web site offers more information about the industry's ways of addressing overall trends and developments, including digitisation, our ageing society and environmental questions.